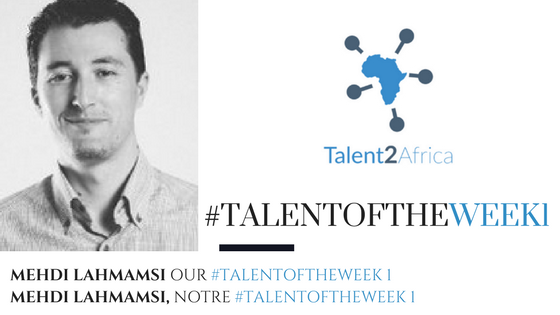 What is your motivation as a member of Talent2Africa?
When leaving Morocco after my baccalaureat, I only had a few words in my mouth: I will come back and will fully contribute to the development of my country and my continent. To conclude my university studies, I dedicated my final thesis to the problem of adapting international trade strategies to developing countries and especially to Africa. Today, 15 years later, Talent2Africa helps me to realize these visions by allowing my professional profile to gain visibility in the African market. It is the first platform with such ambitions, which responds to real expectations of the African Diaspora executives while providing the best solution to the growing need for Management, across all sectors. Being part of Talent2Africa also means participating in a community of pioneers who are clearly aware of the potential of our continent and want to foster a strong dynamic in the contribution of intra-African professional value.
Tell us about your career projects: are you interested in working in Africa? Why?
During the last 10 years in Europe, I have had the opportunity to work in various sectors, evolving up to management positions, and always with international teams. With this experience, my next goal is to expand professionally while bringing real added value to the continent that saw me born. Indeed, I recently participated in an online debate in which the importance of "big brothers" and their role in the professional development of young African talents was discussed, professional development that is often hampered by various circumstances not always related to their true professional value. Being able to work in Africa would be an opportunity for me to act on the economic aspect of the territory of course, but also to work its human aspect by allowing the "dormant potential" to flourish and help the young actors of tomorrow to have a real impact on their society. Whether it is entrepreneurial or within a company, I believe that all executives from the African Diaspora who have the opportunity to return home should work together to boost continental talents and their fruitfulness renewal.
How would you describe yourself to the recruiters and to the readers? (Personal and professional presentation, about you, your skills, your career etc.)
My professional profile is based on several years spent in Retail, sector where I was able to bathe in fields like Sales, Logistics, Merchandising, Human Resources or Accounting. I then dedicated the last seven years to the Digital world as a project manager and team leader in fast growing startups in areas such as traffic management, digital advertising and digital transition. In all the projects in which I participate, I like to have a 360º vision on the objectives, to communicate it to my collaborators and to work with them in the smooth running of the operations. Having the chance to practice 5 languages ??(French, Arabic, English, Spanish and Catalan), I can easily integrate with multinational teams and enrich myself with all these exchanges. Being very analytical, I always try to understand the "why" to arrive at the "how", whether it is through figures or ideas. My multicultural profile has forged a flexible and productive personality that adapts very well to any type of situation.  
---