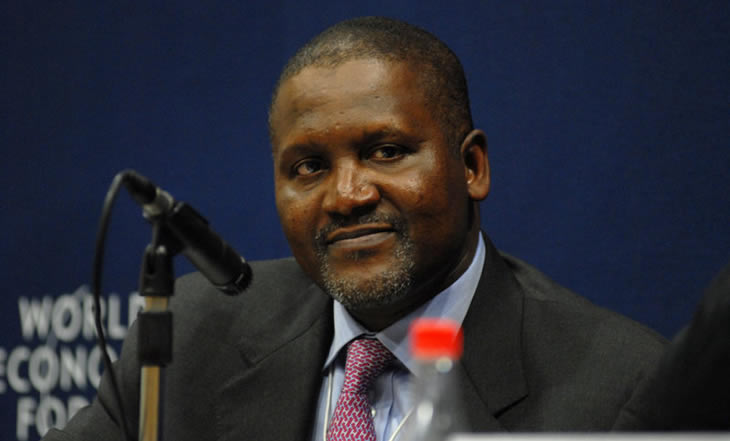 Africa's wealthiest man, Nigerian tycoon Aliko Dangote has a personal fortune estimated at $ 16.7 billion by the Forbes magazine.
"Started from the bottom"
Most people didn't know about this man before 2007. But the story of this self-made-man who started from the bottom and to whom his uncle loaned 500,000 naira (2.300 Euros) and 3 trucks to sell cement, has become a success story in a few years.
The cement market is his core business. It represents approximately 85% of its business and generated 2.1 billion Euros in 2015.
Success Model and Philanthropist
Aliko Dangote doesn't look like the Lagos bling-bling type of billionaire. A native of Kano, one of Nigeria's major business towns, this 59-year-old father of three daughters, is known to be a billionaire with a simple lifestyle, a model of success for Africans and a man caring much for African populations welfare. In 2016, during a visit to IDP camps in Borno (Nigerian state in the Northeast), he announced a 10 million dollars allocation (about 5 billion FCFA) to help the victims in the war against Boko Haram.
He also promised to create training and employment opportunities in Africa for the displaced.
"This is just the first step, I will be back for other actions" he said.
Pan-Africanist
During his speech at the 4th edition of the Africa CEO Forum in Abidjan, Aliko Dangote caught people's attention, showing proudly his attachment to the African continent. He is a man who strongly believes in the potential of Africans and who calls on them to believe in Africa:
"Africa will not develop as long as it continues to export raw materials and import processed products"
"Africans have to invest on the continent. If we Africans do not invest concretely in Africa, no one else will"
The Nigerian remains optimistic, as the goal of the forum is to find solutions to the difficult global economic environment. He reacts:
"I am not worried about what is happening outside the continent. Africa is still doing very well, despite the difficulties. "
He is even convinced that the slowdown in global growth and in Africa is a good opportunity for investors and that the challenges facing the African economies offer "an opportunity to move forward".
Investor and Employer
The CEO of Dangote Group wants to extend his activities in the continent and plans to inject up to $ 18 billion by 2020, particularly in sectors such as hydrocarbon refining, petrochemicals, agriculture and cement through the 18 African countries in which it operates.
"This is the best time to invest and make acquisitions, because asset prices are declining while there are lots of great deals"
Today, Dangote Group is one of the biggest success stories in Africa and one of the main job providers. CEO Aliko Dangote is convinced that training and employment are the only way to develop Africa.