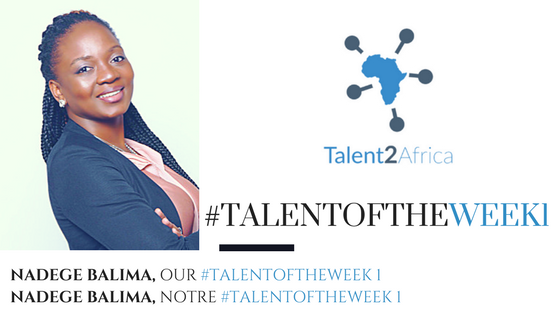 Talented Nadège!
A Civil engineer: more than 8 years of experience in engineering and project management.
Graduated in Computer Science: (Bachelor's Degree, University of Ottawa, Canada), Project Management (Master's Degree University of Quebec in Outaouais) and Civil Engineering (B.A.Sc, University of Ottawa).
A Very rich professional experience in these sectors: construction, consulting and public services.
Perfectly bilingual, (English-French)
A real talent in computer science and excellent analytical skills.
Skills: Microsoft Office, MS Project, SAP2000, AutoCAD, Microsoft Excel etc.
Excellent technical writing skills and HTML Business Communication.
Motivated, dynamic, innovator and dedicated to the achievement of objectives.
Ingenious, intelligent, ambitious !
---
What is your motivation as a member of Talent2Africa ?
One of my current career objectives is to put my experience and talent to good use within the continent I was born and grew up in.
I discovered Talent2Africa as I was researching how to return to West Africa and use my skills and experience. My first impression was a good one: I was met with a modern and resourceful platform that offered to connect me with opportunities on the continent within one of many thriving companies.
As a member of Talent2Africa, I hope to find the perfect opportunity for my next career move; I hope to connect with individuals and the company that will propel me towards meeting my current professional goals. I have gained a rich experience in Canada and want to transfer my skills and talent to the continent where I built my foundation, particularly within West Africa.
What are the reasons for this "homecoming" project?
Many reports indicate that there are a lot of opportunities for the Diaspora on the African continent. My initial impression is that it is quite difficult to have fair access to opportunities when you are located abroad.
Some who have returned to live and work on the continent have expressed unanimously that it was not a good idea to leave the safety of a career to pursue the unknown back on the mother continent. All of those I know have advised me to find an opportunity before returning. As you may notice, it is almost like the chicken and egg dilemma: it's almost impossible to find the right opportunity from a distance but it is not a good idea to come home to look for it.
When I discovered Talent2Africa, it seemed like the ideal platform for someone like me who isn't currently located on the continent. I am looking for the best of both worlds: opportunities to relocate in a place closer to my cultural values and most of all, closer to family, while still doing what I love.
The objectives of Talent2Africa met my needs exactly and the job postings appeared to be in the realm of my interests and aspirations; I knew I was in the right place.
How would you describe yourself, as a talent of the African Diaspora?
From a professional point of view, I'm a Civil Engineer with over 8 years of demonstrated engineering and project management experience in municipal infrastructure and transportation engineering. I have worked in the fields of construction, consulting and government, and have developed a well-rounded view of both the public and private approach in the industry.
I possess excellent analytical skills and great computing skills. I am fluent in both French and English and can readily work in any of these languages.
I like to describe myself as a motivated, self-starter who is willing to work hard for what I believe in. I am a dynamic individual who enjoys both working on her own or within a team and is devoted to meeting objectives. I am often described as a resourceful, intelligent and ambitious young woman who is pleasant to be around.