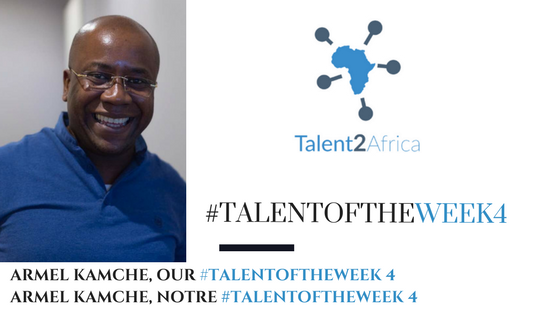 TALENT OF THE WEEK 4: Talented Armel Kamche!
International management expert
12 years high level experience in different industries (Aviation and Textile manufacturing) and regions (Western Europe, Middle East and Africa)
Business Development Executive Manager (Perspektiv – France)
Experienced strategic unit manager and product coordinator
Skills: Financial analysis, costing, sourcing and business strategy
MBA -Executive Master of Business and Administration: Business Management (HEC Paris)
Graduate civil engineer – Universität Hannover
Languages: German, English and French
---
1- What is my motivation as a member of Talent2Africa?
Talent2Africa has an innovative model in the HR sourcing industry, that contribute very efficiently to have the best person at the right place, providing more visibility for the candidates and the perspectives inside the companies recruiting for the African markets.
I'm pretty sure it is and will be the best exchange platform between recruiters and jobseekers wanting to contribute with their skills in the African economies growth.
2- Tell us about your career projects: are you interested in working in Africa? Why?
I want to contribute to the outstanding growth and market leadership in west and central Africa of a company with international exposure by sharing my experience and knowledge in corporate and business strategy, project management, marketing and finance at work in these regions.
According to my experience at Perspektiv, African markets are not well addressed by international companies due to the lack of human resources with social intelligence beyond any technical skills.
The next step for the continuous growth of those companies will be to have manager with both skills.
3- How would you describe yourself to the recruiters and to the readers? (Personal and professional presentation, about you, your skills, your career etc.)
Oriented at international management, I have 12 years experience in complex projects and business management through uncertain environments.
I have supported my company in different industries (Aviation and Textile manufacturing, financial services) and in different geographies (Western Europe, Middle East and Africa), helping her to achieve exceptional market results.
I'm an experienced team manager, product coordinator and strategic unit manager with skills in managing direct reports as well as cross-functional teams.
I had to manage a product line from concept to end of life, justifying new product development investment, improving product development processes, and market survey, thanks my skills in financial analysis, costing, sourcing and business strategy.