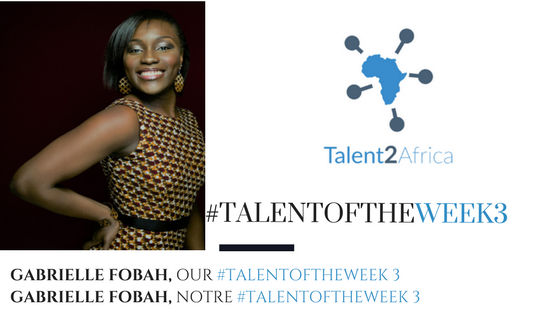 TALENT OF THE WEEK 3: TALENTED GABRIELLE!
        

Recruitment and Integration Manager

in the Environment Sector

        

Master II Management and Human Resources Management

(ISEFAC Alternance, Paris / Lille)

        

7 years professional experience

in the Service sector:

        

ERTECO France (HR Recruitment and Development Officer)

        

Gfi Informatique (IT Recruitment Officer)

        

BULL Atos Technologies (HR Development Officer)

        

HR Consultant, Performance Management and Management Consulting

        

Skilled professional, committed, dynamic and meticulous

person
---
What is your motivation as a member of Talent2Africa?
It is a beautiful opportunity to be visible on the platform Talent2Africa. Indeed, it gathers in a single space the majority of the influential companies which recruit in Africa. So, it is an excellent means to put forward the skills which I wish to put in the service of these companies at the heart of the African development.
Tell us about your career projects: are you interested in working in Africa? Why?
In the continuity of my studies, my professional career began in Europe mainly within service companies during approximately seven years. Native of western Africa, I very quickly tried to put my expertise in the service of Africa. Indeed, having increased partially on this continent that I loved so much, i kept as ambition to return to it to the stemming from my studies to contribute to the development. So, for approximately one and a half year, I am in office within a big French group based in Central Africa.
I feel a real enthusiasm in front of high potential economic hardly exploited of Africa. The development of Africa is still in its early stages. We have to develop again a lot and it in all the domains. The African economic awakening is there and I am really motivated to add my contribution in a significant way and be a member of his pioneers.
How would you describe yourself to the recruiters and to the readers? (Personal and professional presentation, about you, your skills, your career etc.)
From a professional point of view, I chose the service companies where I evolve for approximately 7 years. After two years in the sector of the rail transportation, then two years in recruitment agencies/finance of market, I decided to widen my experience with two additional years in the computing professional as well as the mass-market retailing. Finally, I occupy at present the post of person in charge recruitment/RH in the sector of the environment. This strategy allows me to capitalize skills in varied sectors and allows me to be in sync with the labor market in Africa. Especially, as the continent offers a vast radius of action and a wide perimeter of employment.
I am fluent in French and have a good level of English. I am mobile and am described as being a determined, dynamic and passionate person by what I'm doing. I am accurate and like going at the end of what I undertake.
As manager, I appreciate particularly the teamwork which helps develop interpersonal relations, to share my know-how and my social skills. Finally, challenges to be raised and the taste of the adventure are a real source of motivation.
My managers have for habit to describe me as one beating, acute, endowed with good interpersonal skills, full of life with leader's temperament.