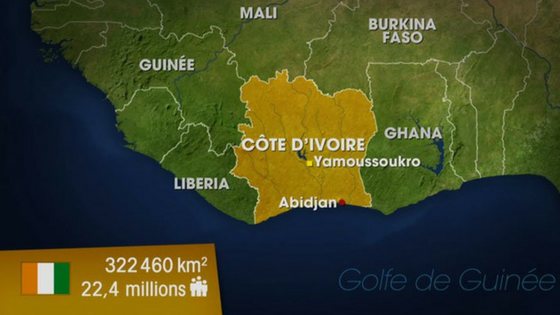 RECRUITMENT OPPORTUNITIES IN CÔTE D'IVOIRE
Investing in Côte d'Ivoire has become a boon for economic players. The recruitment market is very dynamic in sectors such as mining, telecommunications, consumer products, agribusiness, banking, distribution. As a result, there is a growing need for qualified workers and technicians. Several international and local companies settled there, and constantly seeking to recruit qualified agents: Orange, Carrefour, the ADB and other Financial Institutions, Accor Hotels, SIR etc.
Extractive Industries:  Great recruitment needs for technicians such as engineers with acute expertise or highly qualified project managers.
Food industry: Great recruitment needs for sales and marketing profiles (business development, marketing managers, sales managers) and technical director (factory manager).
Recruitment opportunity in Côte d'Ivoire in this sector:
GENERAL MANAGER – IVORY COAST – NORTH – TRADING/SALES/MARKETING
Construction Industry, hotels and tourism: Needs to recruit operational directors, DAF etc.
Recruitment opportunity in Côte d'Ivoire in this sector: RESPONSABLE RESTAURANT H/F
Banking, Finance: West African economic heart, the country is full of Banks and financial institutions in permanent need of profiles such as: Audit, risk manager, Chief Financial Officer, Head of agency etc.
Recruitment opportunities in Côte d'Ivoire in this sector:
CHIEF DELIVERY RESULTS OFFICER    or
HEAD OF HEALTH & BENEFITS FRANCOPHONE AFRICA
Telecoms, ICT and other sectors: With 5 mobile operators in the country, this sector is one of the first recruiters in the country, with several technical or administrative profiles to recruit.
Recruitment opportunities in Côte d'Ivoire in these sectors:
SERVICE LEADER – COMPLETION TOOLS
Growth expectations:  ILO (International Labor Organization): "122 million posts to be created in Africa by 2027"
GDP growth in Côte d'Ivoire is expected to reach 8% in 2018 according to World Bank forecasts. The country's authorities have an ambitious investment program, such as the construction of a Metro-type urban railway (Metro d'Abidjan), for an emerging Ivory Coast by 2020.
---
Learn more about the country.
Strong economic assets.
Good infrastructures inherited from the two decades of the "Ivorian miracle" (1960-1980).
The world's largest cocoa producer with more than 35% of the market.
The second port in sub-Saharan Africa.
Important road network, recently expanded international airport.
Growing agriculture (28% of GDP).
Number one in Africa for several other agricultural export productions (rubber, cashew nuts, cotton, coffee, oil palm, banana, pineapple, cola).
Secondary sector (25% of GDP): crude oil refining, construction and agrifood processing.
The tertiary sector (47% of GDP): banking, mobile telephony (5 operators) as well as ICT.
Energy self-sufficiency through the exploitation of gas and oil deposits.
Exports of electricity and petroleum products in the subregion, its refinery (SIR) ranks second in sub-Saharan Africa.
On a strong momentum since the end of the post-election crisis (April 2011).
Returning Growth (9.8% in 2012 and 8.7% in 2013, 8% in 2014 and 8.4% in 2015, 7.8% in 2016 after a recession of 5% of GDP in 2011).
Progressive dynamism of the private sector.
---
Geographic data: Located in WEST AFRICA
Yamoussokro, Basilica of Our Lady of Peace
Official Name: Republic of Côte d'Ivoire
Surface area: 322.463 km²
Capital: Yamoussoukro
Main cities: Abidjan, Bouaké, San Pedro, Gagnoa, Korhogo, Daloa, Yamoussoukro
Official language: French – National: 11
Currency: CFA Franc
National holiday: August 7
---
Demographic data
Population: 22.7 million inhabitants (World Bank, 2015) including 5.5 million foreigners
Density: 69.7 inhabitants / km² (World Bank, 2014)
Population growth: 2.4% (World Bank, 2014)
Life expectancy: 51.9 years (World Bank, 2015)
Literacy rate: 57% (World Bank, 2011)
---
Economic data
GDP: USD 32 billion (DGT, 2016)
GDP per capita: USD 1,410 (DGT, 2015)
Growth rate: 8.6% (IMF, 2015)
Unemployment rate: NC
Inflation rate: 1.6% (DGT, 2015)
Budget balance: – 2.3% of GDP (DGT, 2015)
Trade balance: CFAF 1,468 billion (IMF)
Main costumers: Netherlands (10%); United States (8%); South Africa (7%); France 6% (DGT, 2014)
Major suppliers: Nigeria (22%), France (12%), China (9%), India (5%
GDP line of business shares (DGT, 2016): Agriculture: 28%, Industry: 25%, Services: 47%