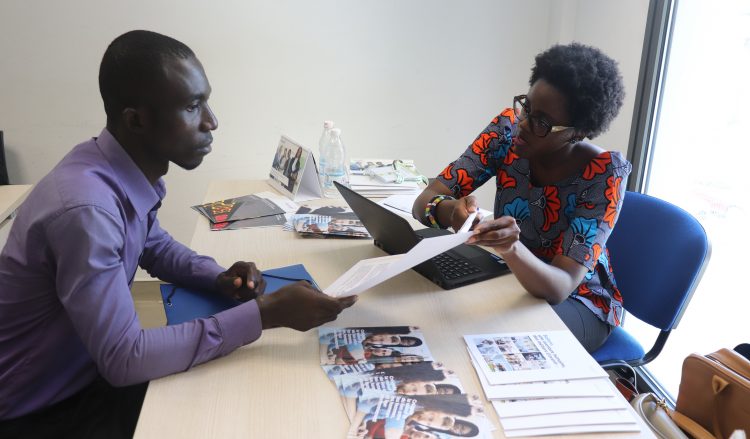 As part of the ADICOMDAYS, Talent2Africa organized job-dating sessions dedicated to digital professions, on March 1st 2018, at the French Institute of Abidjan, The goal was to put into practice its inclusive and pan-African recruitment model: "connecting African companies with the world's talents". This job-dating facilitated direct, supervised and fruitful exchanges between jobseekers and recruiters pre-qualified by T2A.
Several fields of activity related to digital were concerned. For each employer, there was at least one recruitment need in the immediate or short-medium term, as required to qualifiy for the job dating session. In total, there were 30 candidates and 5 employers present in the multifunctional room of the French Institute of Abidjan, specially equipped to contain face-to-face recruitment interviews.
The Talent2africa team based in Abidjan was on site to provide technical support. Each interview lasted about ten minutes therefor the job-dating generated 30 connections in one hour from 2 to 3 pm. Each employer met 6 different candidates. An intensive but powerful format, given the results. Read : SOUGHT-AFTER SKILLS AND CHALLENGES IN AFRICAN TECH SECTOR In addition to directly linking recruiters to candidates, it was an opportunity for T2A to better measure the impact of the job-dating event by analyzing returns from both sides. This is part of a quality approach, at the end of which the results will help to better adjust to the African market, better understand the needs of employers and better guide candidates in their job search.
T2A continues its efforts to help African companies find skilled workers, and had another opportunity to do so by repeated the experience a week later in Dakar (March 8), only this time the job-dating was exclusively dedicated to women, in honor of the International Women's Day.