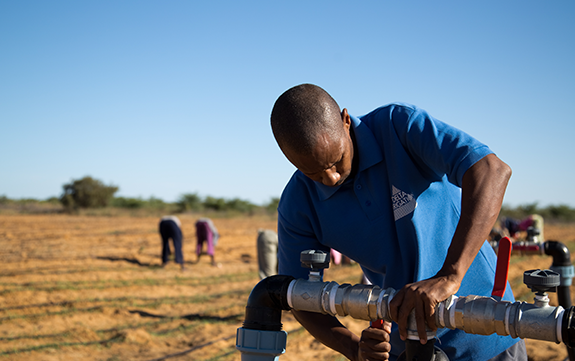 Diaspora – First reality: Africa's growing economy and prospects are the latest buzz issues in the financial world. The big Western economies and their new Asian and South American competitors have a definite focus on Africa, land of profit opportunities.
Africa played a very limited role on the economic battlefield so far, with no decision-making power and always came last in the global economic awards.
Standing today  as dynamic actors at "the heart of globalization", African people can now unleash both their energy and creativity. In the top management, innovation, entrepreneurship and creativity fields, "new African faces" are emerging alongside the unreachable and traditional "Bill Gates-Microsoft" success models.
Africa has also understood that identity is an important detail. The continent needs top economic benchmarks based on companies that live, think and breathe "African". Economic pan-Africanism is now understood as a power against total economic colonization policies.
As an example, the African youth shines in his entrepreneurial spirit. Inspired by success stories of big companies "by Africa and for Africa", like Wari (Kabirou Mbodji, Senegalese)  or Dangote (Nigerian Aliko Dangote), many entrepreneurs dream to write their own economic story. The Diaspora professionals are aware that Africa is the best place to practice their skills and build success. Even if some still hesitate to professionally "start afresh" in the mother land, the reality is that they only delay an almost inevitable return, to play their role in this coveted development.
Today, African companies from all sectors are running neck and neck with supposedly untouchable multinationals. Additionally, new creative and innovative initiatives (startups) appear as sentinels to protect and strengthen the economic growth. Some of them quickly understood that Africa needs its children, especially those from the Diaspora.
Startups like Talent2Africa encourage global African professionals and any other good resource for Africa, to work for the continent. The recruitment platform founded by a skilled Senegalese Diasporan who preferred to return home, already partners with large companies. Talent2Africa is currently seeking financial and human partners to make visible and accessible important career opportunities for talented Africans and professionals from around the world, who want to work in Africa.
However, there is one identified obstacle to this pan-African impetus: funding
Despite the numerous efforts in this direction, Africa is "still begging" to finance its own development. Western powers have the majority of the global wealth and they subject Africa to binding funding conditions.
In this context, the Diaspora's contribution becomes more than necessary to support the "for us by us" spirit. This contribution may be both financial and intellectual. It is also an opportunity for African professionals, both local and immigrant, to work hand in hand and become models of success, which will inspire others.